Why We Fought The Tower—and Won!

When the Fight the Tower campaign achieved victory 2016, Arlington Avenue residents did more than kill the massive Verizon cell antenna installation planned for their block. They also proved that a neighborhood as small as Golden Gate can successfully challenge city and federal policies favoring telecom over its own citizens.
Campaign Coordinator Deborah Yaffe summarizes why it paid off to stand up quickly for Golden Gate.
In 2014, Verizon informed the City of its plans to permanently lease the rooftop of the recording studio at 960 Arlington in order to install and operate a wireless cell tower. The installation would include eight antennas and an external, backup diesel generator.
Yet we learned about the project only after the City Planning Dept. provisionally approved the plan in early 2015. That was just two weeks before the project went to the City Planning Commission, where it was destined for unanimous approval due to FCC regulations favoring telecomm development.
When the property owner, Thomas McElroy, refused to meet with concerned neighbors, we formed the Fight the Tower campaign, a coalition of residents and neighborhood organizations that uncovered:
The tower would be less than 25 feet from the nearest home
The City failed to notify neighbors in a timely manner for public input
Verizon had not adequately explored alternative sites
The backup, diesel generator would far exceed allowable noise levels
Gas lines running to the roof posed a serious health risk
The project was incompatible with surrounding 1-2 story bungalows
Transmission waves posed possible health risks, according to independent studies
Future tower add-ons are permitted by the City without approval or modification
Our campaign succeeded to delay the Planning Commission hearing another six weeks. In the meantime, we quickly mobilized 200 citizens to petition Verizon and the City to stop the project. We organized a community meeting for Verizon and City staff to hear residents' concerns. We also held demonstrations at the local Verizon store and the City. Local press also helped get the word out.
At the May 15, of 2015, Planning Commission hearing, more than 20 residents testified against the plan. The commission then made the bold decision to delay project approval until Verizon completed a more thorough Alternative Site Analysis and updated design plans that placed the generator inside the building.
One year later, Verizon withdrew the plan from the City without explanation.
Lesson learned:
Cities across the U.S. cannot deny telecom wireless projects on health grounds alone due to an FCC ruling that wireless transmissions pose no health risks. As a result, project opponents should to focus on:
Uncovering breaches in municipal building codes
Delaying the planning process to allow for adequate public participation
Protesting loudly and widely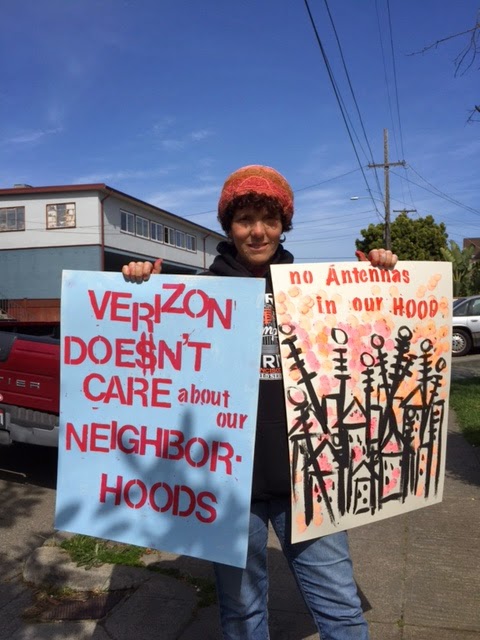 Get Campaign Details
Fight the Towers Blog
Fight the Towers Facebook
Campaign Thanks
Arlington Avenue neighbors
GGCA
Angela Gennino
Kim Lucas
Scott Holderby
Laura Ingram
Josh Hart
Santa Fe Community Association & Neighbors
Alameda Green Party
KPFA
Dr. Joel Moskowitz
Jahmese Myres
Jahaziel Bonilla
Michael Hamilton
Greg Henricks