Golden Gate Neighborhood Community Policing Council - Beat 10X
Do you need help addressing possible criminal activity or nuisances near your home? Attend a GGNCPC10X meeting to discuss the problem and safe ways to address it.  GGNCPC is part of the Oakland Community Policing program to prevent crime through partnerships between communities and the police.
When we meet
Join us on the third Wednesday of the month (except December), at 6:30 PM. During COVID we meet on Zoom and by phone. For a meeting invite, contact NCPC10x Chair Karen Youst at ggncpc10x@yahoo.com. Meeting reminders are posted to the GGCA Google group and Nextdoor.org.
How we work
Beat 10x is one of Oakland's 57 community police "beats" that are each assigned an Oakland police officer called a Community Resource Officer (CRO). Residents and our CRO meet monthly to discuss our concerns and prioritize the issues our CRO will address before the next meeting.
Each NCPC is managed by volunteer board members with support from a Neighborhood Services Coordinator (NSC), a city staffer who helps coordinate engagement with the police and other City departments.
Issues we tackle
Illegal activities on residential properties
Illegal dumping
Human trafficking
Loitering
Public nuisances
Our events
National Night Out:  The first Tuesday in August, NNO block parties citywide promote community-building and police-community partnerships that help make our neighborhoods safer, more caring places to live. NNO also brings police and neighbors together under positive circumstances. You don't need NNO permits to close your block to traffic, bring out the tables and chairs, play music, serve food, and let the kids have run of the safe street.
Golden Gate Holiday Party:  Every December at the Charles Porter Golden Gate Recreation Center, we all gather to enjoy the potluck feast, live music, kids activities, and prizes while catching up with each other. Cosponsored with the Golden Gate Community Association (GGCA).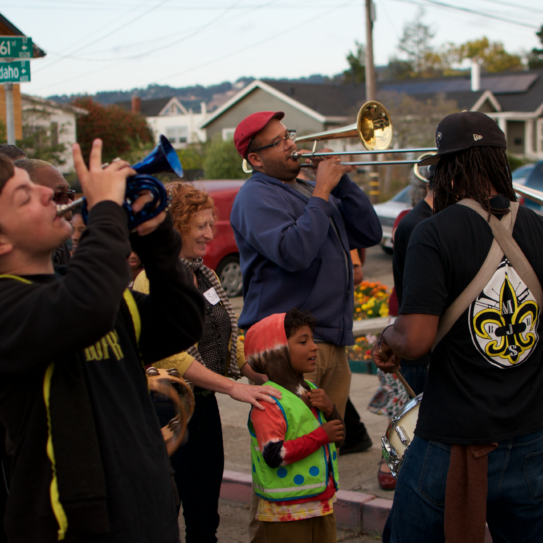 National Night Out on 61st St. (above) and Lowell St. (below).
More resources
Call 3-1-1 to report routine City maintenance issues (potholes, illegal dumping and graffiti, abandoned vehicles, etc.) and urgent infrastructure issues (downed sign, traffic light outage, flooding, sewer overflow, fallen trees, etc.)
Use Nixle, a community information service to keep up-to-date on relevant information from your local public safety departments and schools.